Low back pain is a very common symptom in the general population and among athletes. At some point in their lives up to 85% of the population suffer from Back pain and leads to annual cost of over 40 billion US $ in the United States (Brukner et al. 2012). Most people who experience activity-limiting low back pain have recurrent episodes. Approximately once a year a recurrence occurs in 24% to 80%. Environmental and personal factors influence the onset and course of low back pain. Other risk factors might be low educational status, stress, anxiety, depression, job dissatisfaction, low levels of social support in the workplace and whole-body vibration. It has been found that the incidence of LBP is highest in the third decade, and overall prevalence increases with age until the 60-65 year age group (Hoy et al. 2010).
There are 3 different types of low back pain, acute, recurrent, and chronic. Acute LBP comes on suddenly and typically lasts less than 3 months. Recurrent low back pain occurs with frequent episodes of acute LBP. Chronic LBP typically lasts longer than 3 months.
Possible causes of Low Back pain are overuse, strain, or injury. However, it is mostly caused by the inability of your back's muscles, ligaments, and joints to work as they should. More often than not, the cause of LBP just isn't clear. Much less frequently, LBP may be the result of a specific health condition, such as degenerative disk disease (a flattening and stiffening of the disks between the vertebrae), lumbar spinal stenosis (a narrowing within the vertebrae of the spinal column, resulting in too much pressure on the spinal cord), or osteoporosis (a thinning of bone tissue and loss of bone density over time). Rare, but serious LBP symptoms include incontinence or difficulty urinating, poor balance, numbness, or weakness in the legs. See a physician immediately if you experience any of these symptoms. It is worth repeating, however, that most LBP is not serious and may be resolved or managed effectively by using a conservative approach, such as physical therapy (American Physical Therapy Association 2012).
These precautions can help prevent LBP in your daily life (read more here American Physical Therapy Association 2012) .
Lifting
Position your body directly in front of the object.
Bend your knees rather than your back.
When carrying do not twist your back to turn, move your feet.
Wearing Backpacks
For children it is suggested that backpack contents should be limited to 10 to 15% of the child's body weight.
Wear both straps to keep weight distributed properly.
The backpack should rest evenly in the middle of the back—it should not extend below the lower back.
Gardening
Support your back by bending at the knees to avoid straining.
Keep one foot on the ground while kneeling.
Use knee pads when kneeling to absorb some of the pressure.
Use a wheelbarrow to move heavy items.
Change positions frequently to reduce stiffness.
At the Office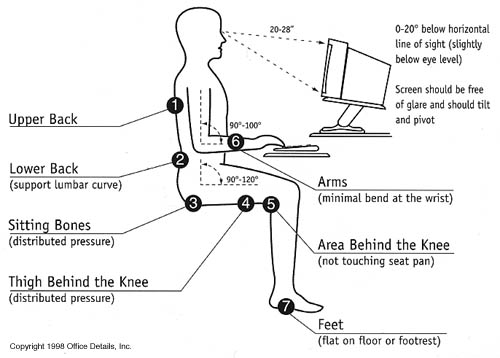 Use an upright chair that has good back or lumbar support.
Postion the monitor for your head and shoulders to be able to relaxed and you don't have to crane your neck.
Keep your mouse close to your body.
Do easy exercises at your desk (backward shoulder rolls, and get up frequently to stand straight and/or walk).
Traveling
During long drives, stop every hour or so to stand up and move around.
You can also place a rolled up towel behind your back at approximately waist level to provide lumbar support while driving.
In the long-term you should consider physical exercise, which is recommended and proven to prevent low back pain. High intensity programmes, which comprise both an educational/skills programme and exercises, can be recommended for patients with recurrent and persistent back pain. Against general belief, lumbar supports or back belts are not recommended (Eurpopean Guidelines for prevention in Low Back Pain 2004).
American Physical Therapy Association: Low Back Pain: Management and Prevention Guideline
Bruckner P, Kahn K. Brukner & Khan's Clinical Sports Medicine. 4th ed. Australia: McGraw-Hill Australia; 2012. p. 463-492
Eurpopean Guidelines for prevention in Low Back Pain
Hoy D, Brooks P, Blyth F, Buchbinder R. The Epidemiology of low back pain. Best Pract Res Clin Rheumatol. 2010 Dec;24(6):769-81.